The Fig Fruit
Figs grow on the Ficus tree (Ficus carica) which is part of the Mulberry family. They are commonly grown in Western Asia and the Middle East.
These soft, chewy fruits are packed with crunchy seeds and can be enjoyed fresh or dried.
The health benefits of figs are similar to many other fruits.
They are a rich source of dietary fiber making them good food for losing weight.
There are over 700 varieties of figs, but only the five below are commonly cultivated:
Adriatic Figs also known as white figs for their light color have high sugar content. They are typically yellowish-green or pale green and tend to white under bright light.
Brown Turkey Figs have a purple or dark brownish skin, are mildly flavored and not as sweet as the other figs.
Black mission figs that originate in Spain are the commonest variety. There have deep blue-purple skin and are relatively small compared to the rest. They are extremely sweet.
Kadota Figs boost of light green skin and pale inside. They are also not so sweet.
Calimyrna Figs are larger than other figs. They have a greenish skin with golden hues and striking pink inside. They are also packed with a nuttier flavor compared to the rest.
If you like this article be sure to check out some of our other articles on your favorite fruits!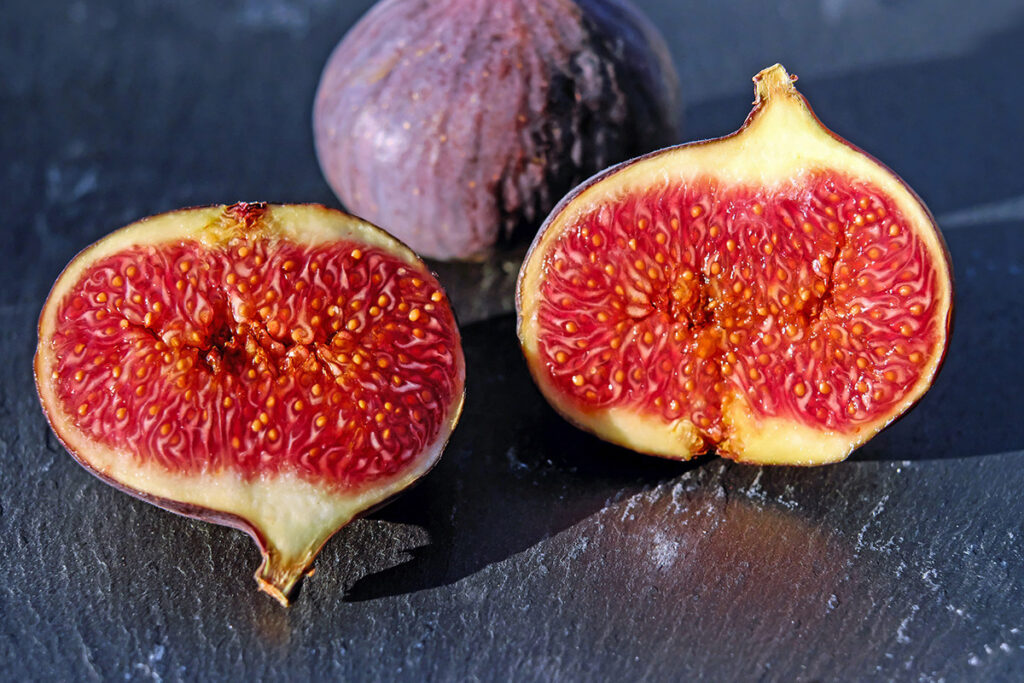 Health Benefits Of Figs And Nutrition Facts
Fig Fruit Nutrition
One large, 64-gram (2Oz) fig is packed with the following percentage of ingredients (in grams or %):
Calories 47.4 (198kJ)
Protein 0.5 g
Fat 0.2 g
Carbohydrates 12.3 g
Fiber 1.9 g
Copper 2% of the Daily Value(DV)
Potassium 4% of DV
Magnesium 3% of DV
Vitamin B6 4% of the DV
Thiamine 3% of the DV
Riboflavin 2% of the DV
Vitamin K 4% of the DV
Calcium 3% of the DV
The following table shows the nutrition facts for 100g (3.53Oz) of raw and dried figs.
| | | |
| --- | --- | --- |
| | Raw Figs | Dried Figs |
| Calories | 74 kcal | 249 kcal |
| Protein | 0.75 g | 3.3 g |
| Lipids | 0.3 g | 0.93 g |
| Dietary fiber | 2.9 g | 9.8 g |
| Sugar | 16.26 g | 47.92 g |
| Calcium | 35 mg | 162 mg |
| Iron | 0.37 mg | 2.03 mg |
| Magnesium | 17 mg | 68 mg |
| Phosphorus | 14 mg | 67 mg |
| Potassium | 232 mg | 680 mg |
| Vitamin C | 2 mg | 1.2 mg |
| Folate | 6 mcg | 9 mcg |
| Choline | 4.7 mg | 15.8 mg |
| Vitamin A | 7 mcg | 0 mcg |
| Beta-carotene | 85 mcg | 6 mcg |
| Lutein and zeaxanthin | 9 mcg | 32 mcg |
| Vitamin K | 4.7 mcg | 15.6 mcg |
Health Benefits Of Figs
The Fig fruits are rich in numerous rich nutrients such as potassium, fiber, copper, and vitamin B6 which makes them have numerous benefits such as:
Helps in losing weight thanks to the rich fiber content.
May help lower blood pressure thanks to the high potassium content.
Can help treat constipation thanks to its laxative properties.
May improve heart health by improving blood pressure and blood fat levels.
May curb cancerous growth
May promote healthy skin
How Many Calories Do Figs Have?
Fig fruits are low in fats and high in fiber. Fresh fig fruits have more calories than the dry ones. A fresh medium fig has about 47.4 calories while a dry one has about 37.4.
They are high in natural sugars, soluble fiber, and minerals such as potassium, magnesium, calcium, copper, and iron.
How To Grow Fig Trees
How To Prepare Fig Fruit
Fig fruit can be enjoyed fresh, dried, or cooked. When selecting, avoid the dry, cracked ones, and go for the soft, plum ones. Don't mind about a few minor tears or bruises.
Fig fruits can be enjoyed flesh and all. Simply wash clean, cut, remove the stem, and enjoy.
Fig fruit Recipes
Fig Fruit Salad
Ingredients
8 ounces of fresh, ripe figs, cut into quarters
8 ounces of mozzarella cheese
A few basil leaves
Coarsely ground black pepper
Olive oil
Flaky sea salt (optional) or vinegar
Preparation
Arrange small-medium pieces of mozzarella cheese on a plate, add the figs. Add torn pieces of basil leaves and sprinkle the salt, pepper, and oil over the mixture. It is ready to serve.
Easy Homemade Fig Jam Recipe
Figs Medical Research
Ficus carica L. (Moraceae): Phytochemistry, Traditional Uses and Biological Activities
Study of the Effect of an Oral Formulation of Fig and Olive on Rheumatoid Arthritis (RA) Remission Indicators: A Randomized Clinical Trial